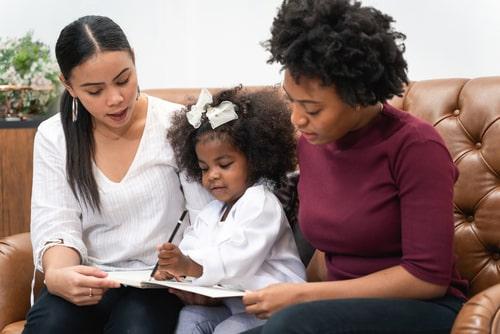 As American and global culture has changed in recent years, more and more people are recognizing that families come in many different forms. In many cases, same-sex, transgender, and non-binary parents play the same role as those in "traditional" opposite-sex couples, including working together to raise children. Because the U.S. Supreme Court has recognized marriage equality, LGBTQ couples have the right to be legally married, and they also have the right to terminate a marriage through divorce. However, if a couple has children, they may encounter some unique concerns as they address issues related to child custody, and in these cases, a parent may need to work with an attorney to make sure their parental rights will be protected.
Legal Parentage in LGBTQ Families
For some couples, the question of paternity may come into play during legal proceedings that address child custody. If one partner is a child's biological parent, the other partner may be concerned about whether they are also considered the child's legal parent. According to Illinois' paternity laws, if a person gives birth to a child, that person's spouse will be presumed to be the child's legal parent. This is true regardless of the gender of the biological parent's spouse. A person who was formerly married to the biological parent may also be presumed to be the child's parent if the couple's marriage ended within 300 days before the child was born.
LGBTQ couples have multiple other options for becoming parents, including surrogacy and adoption. A surrogacy agreement between a child's intended parents and the child's biological mother will usually supersede paternity laws, and the surrogate mother (and, in some cases, the other biological parent) will not be considered the child's legal parent in these cases. When LGBTQ parents adopt a child, either as part of a surrogacy agreement or through another arrangement, they will become the child's legal parents, ensuring that they will have the right to share child custody in the case of a divorce or the end of an unmarried partnership.
...