Will Getting a Divorce Affect My Credit Score?
Posted on September 07, 2019 in
Divorce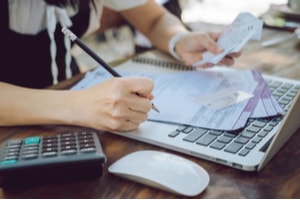 For many people, divorce can put a big financial strain on the family. The cost of getting divorced is estimated to be anywhere from a couple of thousand of dollars to more than $100,000 if you have an extensive list of issues you must settle and a combative spouse. In addition to the cost of getting the divorce, your finances can change because you are switching to a one-adult household with less income and similar expenses. Many couples worry about what a divorce will do to their credit score and for good reason. Getting a divorce will not lower your credit score by itself, but there are things that happen throughout the divorce and the asset division process that could negatively affect your credit score:
You Have Not Closed Your Joint Accounts Yet: Many couples simplify their finances during the marriage by having joint accounts. These can be bank accounts, credit card accounts or even investment accounts. During a divorce, these accounts must be distributed to both spouses, but it can take time to do that and to open new accounts in your own name. If your spouse still has access to accounts that have your name on them, they can do things that can negatively affect your credit score, such as accruing charges or overspending on a credit card account.
You are Not Prepared for the Change in Income and Expenses: Divorcing also means you are splitting your households. Instead of having two incomes to pay for all of your expenses, you now have all or most of the same expenses but are paying those with only one income. Some spouses may be ready for this change, but other people take time to adjust. Before you are on your own financially, you should figure out a new budget for your post-divorce life and determine what you can and cannot afford. Even something as small as one late payment on a credit card or loan can impact your credit score negatively.
You Have to Refinance Your Home: If you and your spouse owned a home together during the marriage, you must determine what you are going to do with it. Though the easiest way to deal with a family home is to sell it and split the profits, many people want to keep the home, especially if they have young children. If one of you is keeping the home, it is easier for everyone if the mortgage is in that spouse's name only. To do this, you will probably have to refinance the home, which means you will have to go through a hard credit inquiry that could impact your credit score.
Consult With a Will County Divorce Attorney Today
Though your credit score is probably not on your list of priorities when you are going through your divorce, you should definitely keep an eye on it. Many people come out of divorce not knowing what their personal credit score is or not realizing that their credit score is not strong enough to qualify them for many things. At The Foray Firm, we understand how much of a change a divorce can bring to all aspects of your life. Our skilled Homewood, IL, divorce lawyers can help you throughout your divorce and help you protect your credit during the process. Call our office today at 312-702-1293 to schedule a consultation.
Sources:
https://www.nerdwallet.com/blog/finance/credit-cards-divorce-hurt-score-joint-accounts-bills-pay/
https://www.thebalance.com/will-divorce-affect-your-credit-score-960993
https://blog.credit.com/2017/12/10-ways-divorce-can-affect-your-credit-180090/