What to do When Your Child's Other Parent Tries for Full Custody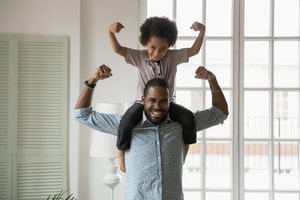 As a parent, your children are probably the most important part of your life. A parent's greatest fear is losing their children. You probably cannot imagine your life without your children in it. So when you and your children's other parent split and go to court for child custody, you hold out hope for the most possible time with your children. Nothing is scarier than hearing that the other parent is demanding exclusive custody. The prospect of your former spouse or romantic partner taking your children out of your life is enough to send any parent into full-blown panic. The good news is that demands for full custody very rarely succeed. In most cases, this fear is largely unfounded. However, it is critically important that you work with an experienced child custody lawyer who can fight to stop this from happening.
When do Illinois Courts Give One Parent Full Custody?
This is a last resort option that is only used when one parent is genuinely harmful to their children. We see this happen almost exclusively in cases where one parent has abused the children or is extremely unstable. Even if your former partner manages to convince the court that you cannot be trusted alone with the children, supervised visitation is often used. Supervised visitation is not often a permanent arrangement.
Fighting Back When Your Ex Demands Exclusive Custody
The following tips may help you resist your former partner's demand for full custody:
Expect false accusations - The other parent will almost certainly accuse you of all sorts of things, like hitting your children or neglecting them. Stay calm and trust that the truth will come out. A guardian ad litem may be appointed to talk to the kids and determine whether these accusations have merit.

Care for yourself - If you have a mental illness or a substance abuse problem, get treatment for it. Courts know that plenty of good parents have struggled with one of these. The important thing is that it is being taken care of.

Obey temporary orders - One of the first things the other parent may do is to get temporary orders, such as protection orders or emergency custody orders. If this happens, it can be devastating and you may rightfully feel angry. However, you must obey these orders. Remember that it is only temporary. Violating these orders will just cause new problems.

Stay off social media - It can be tempting to bash your ex on social media. Do not do this. Do not air their dirty laundry or say anything hateful about them. It is best not to post anything about the situation at all.
Fighting back when your ex demands full custody can require a lot of patience and extreme self-control. Your best bet is to immediately get an attorney and let them be your voice.
Speak With a Will County Child Custody Attorney
The Foray Firm is committed to helping parents maintain meaningful relationships with their children. Our experienced Orland Park child custody lawyers will fight to keep your children in your life. Call us at 312-702-1293 to schedule a consultation.
Source: https://ilga.gov/legislation/ilcs/documents/072000050K10-5.5.htm