Understanding Illinois Domestic Violence Orders of Protection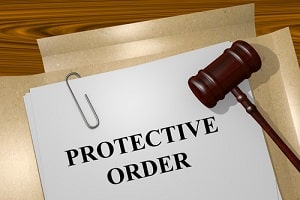 Domestic violence is all too common in the U.S. According to the National Domestic Violence Hotline, more than 12 million people experience some form of domestic violence in any given year. In Illinois, domestic violence is defined as any act of abuse that is perpetrated toward a family or household member. Abuse can be emotional, physical, or sexual in nature. Domestic violence can occur between parents and children, step-parents and step-children, romantic partners, people who have a child in common, people who are married or were once married or people who live together or once lived together. Domestic violence can put the safety of everyone in the family at risk, but fortunately, there are steps you can take to protect your family.
What is an Order of Protection?
An order of protection is a legal order that can help protect victims of domestic violence. The order is given by a judge and can prohibit an abuser from doing certain things and likewise can order an abuser to do certain things or face consequences. An order of protection can:
Prohibit an abuser from committing any further abuse;

Order an abuser to leave his or her home;

Prohibit an abuser from being near the victim and his or her children;

Require an abuser to attend counseling;

Order an abuser to pay child support or spousal maintenance;

Forbid an abuser from removing certain personal property from his or her shared residence; and


Temporarily allocate all parenting time and responsibilities to the victim or another person.
Types of Orders of Protection
In Illinois, there are three types of orders of protection recognized by law: emergency orders, interim orders, and plenary orders. Each order typically lasts for different periods of time and certain orders cannot provide certain remedies.
Emergency orders: These types of orders are typically used as the first line of defense. These orders are temporary and will not include provisions about counseling, legal custody of minor children or payment of support. Once the judge approves the emergency order, it is immediately in effect and can last up to 21 days.

Interim orders: An interim order of protection is an order that is entered after a respondent (alleged abuser) has been served upon the accusation of domestic violence. Once the order is in effect, it lasts for 30 days. If the respondent chooses to appear in court, they are permitted to testify as to why they believe they should not have an order against them. Hearings for interim orders can result in a plenary order of protection.

Plenary orders: This is the most permanent type of order of protection available in Illinois. Both the petitioner and the respondent will be called to the hearing for the plenary order. The petitioner is required to appear in court, but the respondent is not. A plenary order is one that can last for up to two years and contains almost any remedy to the abuse.
Are You Experiencing Domestic Violence? A Will County Lawyer for Orders of Protection Can Help
Domestic violence is something that can affect anyone, regardless of race, ethnicity, gender or socioeconomic status. If you believe you are experiencing domestic violence, you should contact a skilled Joliet, IL, domestic violence attorney who can help you get orders of protection for your family. Even just a temporary order can help you keep your family safe while you arrange for other accommodations. At The Foray Firm, we understand how difficult it can be to take the step to stand up against your abuser. Let us help you protect yourself and your family. Call our office today at 312-702-1293 to schedule a consultation.
Sources:
http://www.ilga.gov/legislation/ilcs/ilcs5.asp?ActID=2100&ChapterID=59
http://www.isp.state.il.us/crime/domesticviol.cfm
https://www.thehotline.org/resources/statistics/