Top Ten Things You Should Never Do During a Divorce
Posted on December 13, 2019 in
Divorce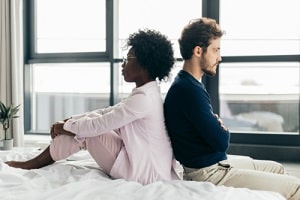 Divorce is a common challenge that people face in their lives. According to the Illinois Department of Public Health, 75,131 couples got married, while 26,132 got divorced in 2016. Tensions run high, and it is easy to find yourself doing or saying things that can cause additional issues. Listed below are the top ten things you should steer clear of doing during your divorce:
Do Not Post on Social Media: Nothing is private on the internet. Avoid Facebook, Twitter, Instagram, and any other social media outlet during your divorce, as anything and everything can be used as evidence against you.

Do Not Take It Out on Your Child(ren) or Family Members: It is important to keep your behavior and attitude in check during this tough time. Your friends and family are your biggest support.

Do Not Neglect Getting An Attorney: A

divorce attorney

can help file paperwork, review and explain anything you may not understand, and direct you through the court system. Do not handle it on your own.

Do Not Try To Hide Money Or Assets: Being petty and hiding money and/or assets can hurt your case and ruin your chances of getting what you want in the end.

Do Not Forget About Your Taxes:

A divorce will change your tax-filing status. Before you file after the divorce, you must come to an agreement with your ex-spouse on how to file and what each of you will claim.



Do Not Jump Into Another Romantic Relationship: Bringing a new love interest in your life during a divorce can further complicate things. Remaining single during this tough time is best for your emotional and mental health.

Do Not Rack Up Debt: Divorce is not cheap. Purchasing things to start over will not be cheap. Be sure to budget your money wisely and set some aside for future purchases.

Do Not Get Pregnant Or Impregnate Someone Else: This should be a no-brainer, as it can complicate issues regarding child support and the allocation of parental responsibilities.

Do Not Turn To Drugs Or Alcohol: Numbing the heartache with substances may seem like a good option but can ruin your chances of receiving fair parenting time if it impairs your ability to be a responsible parent.

Do Not Refuse To Communicate With Your Ex-Partner: Additional legal fees can arise if the silent treatment persists. As a result, decisions may need to be made by a third party.
Contact a Will and DuPage County Divorce Lawyer Today
You need someone who will protect you, your child(ren), and your assets during your divorce. Schedule a consultation with a Joliet, Illinois, divorce attorney at The Foray Firm by calling 312-702-1293.
Source:
http://www.dph.illinois.gov/data-statistics/vital-statistics/marriage-divorce-statistics