Three Tips for Reducing the Stress of Your Illinois Divorce
Posted on March 13, 2019 in
Divorce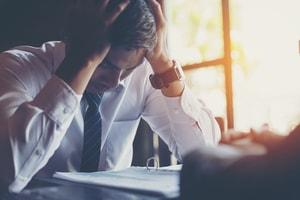 If you are going through the divorce process, you know that it can all begin to feel like a full-time job some days. That feeling can be exacerbated if your spouse is especially combative, your children begin to feel the effects of the divorce or you worry about how things will turn out. Even though your divorce can be extremely stressful, the important thing to remember is that it will all be over at some point and you and your children will be happier and thriving. Getting through the divorce is the hard part, so here are a few tips for helping you to cope with the stress of your divorce:
Allow Yourself to Feel What You Are Feeling: As much as you would like to be a superhero, you still have to deal with your feelings and emotions. During a divorce, you may feel a plethora of emotions – anger, disgust, hate, contempt, sadness and even depression. The important thing to remember is that all of these emotions are completely normal and allowing yourself to feel them is the first step towards moving on.

Take Care of Yourself: Some days you may not feel like doing much or even getting out of bed. While it is much easier to wallow in your self-pity, taking care of yourself physically, mentally and emotionally is a better way to cope with your stress. Make sure you are eating right, drinking plenty of water and exercising regularly. Feeling physically good can help you feel good all over.

Surround Yourself With Friends and Family: Another thing that you should avoid doing is isolating yourself from others. Having a support group in place is a blessing that can really come in handy. Surround yourself with all of your friends, family, coworkers, and other acquaintances so that you have people you can talk to. Sometimes, it can help to talk to a professional counselor or psychologist who can work with you to organize your thoughts and feelings.
Get Help From a Compassionate DuPage County Divorce Lawyer
At The Foray Firm, we understand how difficult a divorce can be on you and your entire family. Our job is to help you through the divorce by ensuring that your rights are protected and making the process as simple as possible. Let our skilled Bolingbrook divorce attorneys help you with all aspects of your divorce, from property division to the allocation of parental responsibilities and child support. To learn more about how we can help you, call our office today at 312-702-1293 to set up a consultation.
Sources:
https://www.liveabout.com/tips-for-dealing-with-divorce-stress-1102740
https://psychcentral.com/lib/reduce-the-stress-of-a-divorce/
http://www.mentalhealthamerica.net/separation-and-divorce
https://www.huffingtonpost.com/entry/5-tips-to-help-cope-with-the-stress-of-divorce_us_58a47fafe4b0cd37efcfef54