Three Signs That You Should Create a 'Postnup'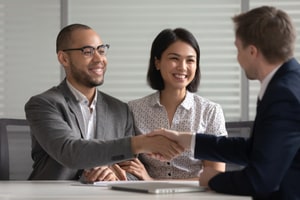 Prenuptial agreements are known to have a certain stigma to them. When someone says the word "prenup," you often think about wealthy, Hollywood couples who are not meant to last together or people getting married for the second time who have significant assets from their previous marriage. This stereotype is far from the truth as more and more couples are selecting to sign a prenup before saying "I do." These legal agreements have become more normalized in the past decade as couples decide to get married later in life, with more financial assets in tow. What you may not have heard of is a postnuptial agreement. This serves the same purpose as a prenuptial agreement, but it is signed after the marriage has begun. You may think that it seems crazy to sign a "divorce agreement" before or after getting married, but there are situations where it benefits you to have a postnup:
You Own a Business:

One of the most uncomfortable and unfair properties to divide in a divorce is a business. For families who open a business together, the company will need to be bought out by one party or divided between both spouses. This can be a difficult division since you both built the business together. In the instance where one spouse comes into the marriage with a successful business, this division can seem unfair since the other spouse had no part in its creation. Business owners may decide to sign a postnuptial agreement to protect their business in case of a divorce. If the couple does not get divorced, both spouses will continue to reap the benefits from their business.

You Have Children From Your First Marriage:

Individuals who get married later in life may have already been married previously and have children. Prenups and postnups are more common with second marriages since the couples have seen how divorce can lead to a contentious legal battle without one. Those who have children from their first marriage should consider signing a postnup to designate the division of assets in the event of his or her divorce or death. You and your second spouse may or may not be considering having children, but naming what is owed to the children of your first marriage is a good idea regardless of any new children that may or may not come along the way.

You Received an Inheritance:

It can seem uncomfortable to onlookers for those who are married to allocate what is theirs when they are not considering divorce. However, it is not a good idea to allow this stigma to result in your spouse receiving half of a large inheritance that has been indebted to you your entire life. For those who receive an inheritance in the middle of their marriage, it may be a good idea to write up a postnuptial agreement and make it clear that they intend to protect their inheritance during a divorce.
Call a Joliet Postnuptial Agreement Lawyer
There has been some deliberation about the validity of postnuptial agreements, especially since they are signed after the start of a marriage. Illinois recognizes them, but there are a number of factors that could invalidate your entire agreement if they are included. It is important to seek out the assistance of an experienced attorney who is well versed in Illinois family law. The Foray Firm has a team of legal professionals who are waiting to assist you and your spouse with the creation of this legal agreement. If you are considering signing a prenup or would like more information about what this legal document can do for you, contact our Homewood prenuptial agreement attorneys at 312-702-1293 for a consultation.
Source:
https://www.investopedia.com/articles/personal-finance/062915/5-signs-you-need-postnup.asp