Setting the Record Straight: Common Divorce Myths and Their Truths
Posted on April 18, 2019 in
Divorce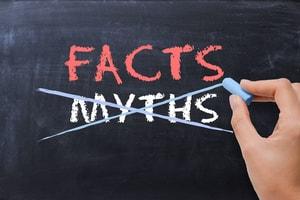 Most of the public perception of divorce is just what people have seen in movies and television or what they have heard from family and friends. While Hollywood does a good job of making intriguing entertainment, it can be partially to blame for some of the misinformation that has been spread about divorce. Divorce myths and misinformation can not only confuse you, but they can also be detrimental if you base your divorce decisions off of them. If you are considering filing for a divorce, you should be thoroughly informed of what you are getting yourself into before you do. Here are a few common divorce myths and the truths behind them:
1. Proving that your spouse committed adultery will help your case.
This might have been true 50 years ago, but most divorce courts no longer give any weight toward claims of adultery. In fact, most divorce courts do not care what the specific reason for divorce is. In Illinois, the only type of divorce that is recognized anymore is a "no-fault" divorce. Instead of choosing a reason for getting the divorce, you now only have to prove that there were irreconcilable differences that resulted in the inevitable breakdown of the marriage. The Illinois Marriage and Dissolution of Marriage Act also specifically states that decisions will be made "without regard to marital misconduct."
2. Mothers always receive custody of the children.
This one was also somewhat true for a long time. Now, the state of Illinois does not care whether it is the mother or the father who receives a majority of the parenting time. The only thing that Illinois courts are concerned with is the best interest and the wellbeing of any children who are a part of a divorce. If that means that it is in the children's best interest to spend most of their time with their father, then that is what the court will decide on.
3. You and your spouse will each get half of the marital estate.
In Illinois, properties are distributed in an equitable fashion, rather than an equal fashion. This means that both spouses will not necessarily walk away from the divorce with the same amount of property. The courts will look at all applicable factors when dividing property and debts and will make a decision based on those factors. This means that one spouse may be responsible for more debt than the other because he or she earns more money, or one spouse may win the right to keep the family home.
4. The wife always gets spousal maintenance.
This is another antiquated myth. In many modern marriages, there are not even any spousal maintenance awards given. The original idea behind spousal maintenance was to enable a wife who had acted as a homemaker for the duration of the marriage to have some sort of income. Now, with more women in the workforce than ever, spousal maintenance has become an optional part of a divorce, awarded to either spouse when there is a large discrepancy in their incomes.
Consult With a Knowledgeable DuPage County Divorce Attorney
Whether you are considering getting a divorce, you already know you are filing for divorce or you are in the middle of the divorce process, it is important that you understand the realities of divorce. At The Foray Firm, we understand that the legalities surrounding a divorce can be quite confusing. Our passionate and understanding Bolingbrook divorce lawyers are here to answer any questions you might have and will help you make sure you are getting the most out of your divorce. Call our office today at 312-702-1293 to schedule a consultation.
Sources:
https://www.huffpost.com/entry/12-top-divorce-myths_n_10054118
https://www.womansday.com/relationships/dating-marriage/advice/a6772/divorce-facts/
http://www.ilga.gov/legislation/ilcs/ilcs5.asp?ActID=2086&ChapterID=59