Is My Prenuptial Agreement Valid in Illinois?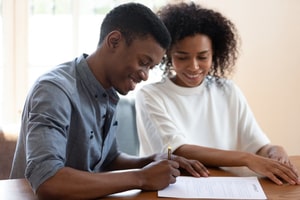 If you could protect yourself from an unpredictable future, would you do it? Many engaged couples have come to the realization that protecting yourself from the unknown is better than being unprepared. As a bright-eyed and recently engaged couple, divorce is likely not at the forefront of your mind. You are probably spending time thinking about the fun part of the engagement: planning a wedding and a future together. Just as nailing down the details of your wedding arrangements is critical for a successful wedding day, recognizing and preparing for the possibility of divorce can also lead to a better marriage. The unpredictability of an ending relationship can add anxiety and tension to marriage, whereas having things planned out with the help of a prenuptial agreement can ease your worried mind. If you are considering signing a prenup, you should be aware of the following mistakes that can make your agreement invalid in a court of law.
DIY Disaster
As is the case with most legal proceedings, generic legal forms can be found on the internet and filled out by each spouse to act as their prenuptial agreement. Rarely do these unsupervised and uninformed DIY prenups hold up in a court of law. Trying to cut out the cost of an attorney and create your own prenuptial agreement with your spouse can actually lead you to spend more time and money in court later on. Working with an attorney is critical for ensuring equality within the agreement, compliance with your state's laws, and proper filing of the legal document.
Full Disclosure
The most common reason why couples decide to create a prenuptial agreement is to divide their assets and debts evenly before emotions are heightened by the stress and devastation of divorce. It is imperative that you and your spouse fully disclose your assets and debts in the agreement. Failure to do so can invalidate the entire agreement. If you do not disclose your financial background, the court may assume that you were trying to conceal assets and keep them out of the divorce and your spouse's hands. Whether intentional or not, you could find yourself scratching your entire prenuptial agreement if things are left unsaid.
Kids, Kids, Kids
Families come in all shapes and sizes. Some wait to have kids until they are married, while others decide to have children together before saying "I do." If you and your spouse have kids, you are not allowed to include provisions about their care within your prenup. The state of Illinois makes it clear that child support, parenting plans, and parental responsibilities will be assigned in the best interest of the children at the time of the divorce, not years beforehand. There is no way for you to predict what will be best for your child one, five, or 10 years down the line. Including provisions regarding their care in your prenup can invalidate it completely.
Contact a Homewood Prenuptial Agreement Lawyer Today
Divorce is never easy to endure. Emotions often run high and decisions about your future may be made out of spite rather than true fairness. Drafting a prenuptial agreement helps you avoid the conflict that divorce proceedings can create but only if the prenup follows Illinois regulations. The Foray Firm understands the benefits that prenuptial agreements can bring to a marriage and relationship; we have also seen how divorce can tear families apart. Our Cook County prenuptial agreement attorneys are well-equipped to create a valid and mutually beneficial prenup. For help with your prenuptial agreement, contact our compassionate legal team at 312-702-1293.
Source:
https://www.forbes.com/sites/jefflanders/2013/04/02/five-reasons-your-prenup-might-be-invalid/#5ed384ab19a5