Is My Marriage Over? Four Signs You Should Consider Divorce
Posted on August 29, 2019 in
Divorce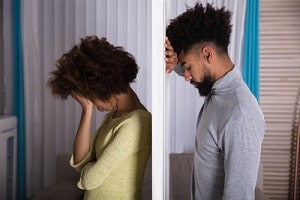 Marriage is not easy. You will have good days and bad days. When the bad days happen more often than the good days, you may begin to wonder if you should even still be married. You may wonder if your marriage is over and what that means, but there is no universal answer to that question. For some people, the best thing to do is to get a divorce, while other couples are able to work things out and rebuild their marriage. The decision is never easy, but here are a few common signs that you may want to consider divorce as your best option:
You and Your Spouse Do Not Communicate: Communication is key to any successful relationship, especially a marriage. When you do not communicate with your partner, you can easily drift apart, which makes for an unhappy marriage. Lack of communication can indicate that there are deeper issues that need to be solved than just learning how to communicate again.
There is No Trust Between You Anymore: Typically, a lack of trust goes along with a lack of communication. You should be able to fully trust your partner, but if you and your partner are not communicating, trust can fade. If you feel like you cannot be vulnerable and honest with your partner about your needs, hopes, and fears, you are not being emotionally fulfilled.
You Are Only Staying Together for the Kids: Staying married simply because you and your spouse have kids together is never a good idea and is not beneficial to anyone in the family. In fact, staying married to your spouse when neither of you is happy can harm your children. Studies have shown that children who live in unhappy households typically have lower self-esteem, behavioral issues, and problems at school.
You Do Not Resolve Your Issues: Conflict resolution is an important skill for any relationship. It has often been said that you should not go to bed angry. While that is not necessarily true, it does mean that you should eventually work out your issues. Refusing to face the issues between you and your spouse or never coming to a resolution builds tension in a marriage.
Talk With a Knowledgeable Will County Divorce Lawyer Today
For many people, one of the most difficult choices they will make in their life is whether or not to divorce their spouse. This decision does not come easy and often takes months or even years to arrive at. If you think a divorce would be your best option, you should also talk with a compassionate and skilled Homewood, IL, divorce attorney as soon as possible. At The Foray Firm, we understand that you may be nervous or unsure about taking this step in your life. We can help you take care of all of the details of your divorce so you can focus on the next chapter of your life. Call our office today at 312-702-1293 to schedule a consultation.
Sources:
https://www.oprahmag.com/life/a26040141/should-i-get-a-divorce/
https://www.psychologytoday.com/us/blog/divorce-grownups/200911/the-six-signals-divorce
https://www.huffpost.com/entry/10-signs-it-might-be-time_b_7794064