How to Tell Your Children You Are Getting a Divorce
Posted on February 19, 2019 in
Divorce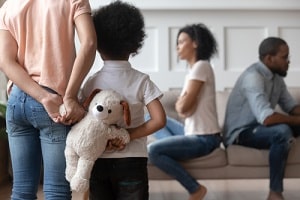 Divorcing with children is difficult for many different reasons. In addition to typical divorce issues like property division and spousal support, couples with children also have other issues to settle, such as who the children will reside with and when, who will pay child support, and who will be able to make certain kinds of decisions about raising the children. Once you have decided that you and your spouse are getting a divorce, you must then take on the sometimes daunting task of telling your children about the upcoming change in your family's life. Here are three tips to help you break the news to your children:
1. Tell the Entire Family All at Once
One important thing to aim for is making sure you discuss your divorce with all of your children at the same time. It is often the case that parents tell the oldest child first and then shelter the younger ones in an attempt to protect them. While this may seem wise, it is unfair to the older child to have to keep that secret, and it is sending the wrong message to the younger children that they cannot handle the situation.
2. Keep it Short and Sweet
For the most part, you want to make sure you keep your message as simple and easy to understand as possible. For younger children, use phrases like, "Mommy and Daddy have decided that we do not want to stay married anymore," and "We will not be living together anymore, but we both love you very much." Older children will require a little bit more information, but you should still try to keep the messy details out of your explanation while making sure they understand that they are not to blame.
3. Reassure Your Children
One of the reasons some children do not take the news of divorce easily is because of the uncertainty a divorce brings to a child's life. When you divorce, you are no longer living together, so the child may wonder where he or she will live, when they will see each parent, and if they will still go to the same school. You should make it a point to reassure your children that their feelings are valid while doing your best to address their concerns and set realistic expectations.
A DuPage County Divorce Lawyer Can Help
One of the hardest things about your divorce may very well be breaking the news to your children. It may be difficult, but children are flexible and get used to change pretty quickly -- as long as you help them along. At The Foray Firm, we understand how divorce changes nearly every aspect of your life. Our skilled Markham divorce attorneys are sensitive to the stress a divorce can put on a family, and we can help you make your divorce go as smoothly as possible. Call our office today at 312-702-1293 to schedule a consultation.
Sources:
https://www.healthychildren.org/English/healthy-living/emotional-wellness/Building-Resilience/Pages/How-to-Talk-to-Your-Children-about-Divorce.aspx
https://www.psychologytoday.com/us/blog/the-older-dad/201105/mom-and-dad-have-something-tell-you-six-tips-talking-kids-about-divorce
https://www.parents.com/parenting/divorce/children/how-to-tell-your-kids-that-you-are-getting-a-divorce/