How to Survive Supervised Visitation with Your Child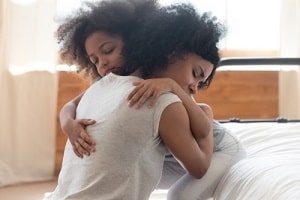 During a divorce, parents must decide how they will continue to parent their child moving forward. This can be difficult for parents since they are likely used to seeing their children on a daily basis. Ideally, courts try to keep both parents in the child's life since this is often deemed beneficial for the child. Unfortunately, this is not always the case. If the court determines that you are unfit to take care of your child alone, they may grant you supervised visitation or deny you from seeing your child at all. Typically, the court will allow supervised visitation before taking such drastic actions as banning you from spending time with your child. Having another party in the room while you are taking care of your kids can be uncomfortable, and the nerves may bring out the worst in parents. Staying calm and having a game plan for your supervised visit is the best way to move towards removing those restrictions.
Create an Active Visit
You will have a certain amount of time to spend with your child, so it is important to make the most of it. It is a good idea to have a few activities planned for your child so that you appear prepared and invested in spending time with them. These "events" do not have to be anything out of the ordinary, but they should tailor to your child's interests. Even if you just color or play Legos, that shows that you are willing to set aside time for your kids.
Be Mindful About How You Present Yourself
It can be difficult to maintain a sense of normalcy while you are being watched, but this is crucial. Your appearance should be presentable, including your language and clothing. The representative assigned to you will be taking written and mental notes about your actions and appearance. The way you present yourself can give the observer a sense of your attitude towards the situation and your attitude towards caring for your child.
Do Not Put Your Child on the Spot
Many parents will attempt to prep their child for the observation, but this can often work against them. Young children will pay less attention to the observer than you think, and warning them about someone watching them can make them act differently than normal. The purpose of the supervision is to see how you and your child interact in your "normal" environment as much as possible. If your child treats this differently, this could make things even more difficult.
Find an Outlet
While it is expected that the supervised parent keeps their comments away from their children, it is impossible to expect the parent to internalize the situation. Finding a place or person to vent your feelings to can be helpful for keeping your emotions in check while you are with your child. Having a third party listen to your frustrations can be a good way to let go of your pent up emotions while staying strong in the presence of your child.
Call a Joliet Parental Rights Attorney Today
Every divorced parent struggles to adjust their parenting after their divorce is finalized – this is even more true for those being supervised while spending time with their kids. It is never a comfortable arrangement to be watched by a stranger, but it may be necessary in order to see your kids. At The Foray Firm, we help divorcing parents determine what is the best plan of action for their kids. We also assist those who believe that their co-parent needs supervision or those fighting against supervision restrictions. If you are a parent who needs assistance determining what their parenting plan will look like moving forward, contact our Will County divorce attorneys at 312-702-1293 for a consultation.
Sources:
https://www.ourfamilywizard.com/blog/5-ideas-supervised-visitation
https://www.fatherly.com/love-money/tips-supervised-visitation-divorce-custody/