How to Successfully Co-Parent After a Contentious Divorce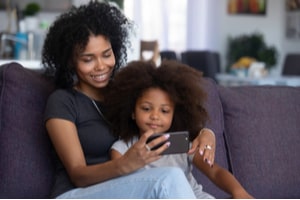 Rarely do couples walk away from their spouse without some conflict arising in the divorce process. For some, the property division process can reveal hidden assets or greedy intentions that you never experienced with your spouse throughout your marriage. For parents, deciding their future parental arrangements can bring out an ugly side of them. You may argue over who will be the primary parent, what legal rights you each have, or how often each parent will spend time with the kids. Whether you deliberate over every little detail or have one, large argument that damages your relationship further, it can be difficult to move forward as co-parents. With a combination of good communication and self-recognition, you and your co-parent can begin to transform your damaged romantic past into a well-working, co-parenting relationship.
Self Responsibility
As silly as it may sound, taking good care of yourself – mentally, physically, and emotionally – can in turn improve the way that you treat others. It is important to recognize your successes and faults from your marriage so that you can make progress moving forward. Many divorcees will continue to blame their ex for the breakdown of their marriage and age-old arguments will never be left in the past. If you do not take the time to heal or work on yourself, your past can continue to damage your future relationship with your former spouse.
Focus on Common Goals
The reason that you and your spouse filed for divorce was a lack of romantic or lifestyle compatibility, not your inability to care for your kids. Even if you still see and do things differently in the parenting department, recognizing that you have a common goal – your child's happiness – can help bring you back to the real purpose of your continued relationship. If you both acknowledge that your child is your priority, this can help mitigate any other disagreements that you may have about how to raise your child.
The Power of Pause
No matter how frequently you and your co-parent communicate about your parenting decisions, you are bound to hit bumps along the way. Maybe you disagree with their disciplinary tactics, the way they talk around your child, or their seeming disregard for your opinion. Before adding more conflict to the situation, take a moment to pause and think about how you will respond. Though it may seem trivial, this pause can allow you to collect your anger, thoughts, and words before saying something that you will regret later. The heat of the moment can lead us to cross the line, and taking an extra minute to gather your thoughts can greatly improve your communication abilities.
Accept Change
Even though you and your ex remain your child's parents, things will undoubtedly change after your divorce is finalized. It can be difficult to allow your co-parent to take over when your parenting schedule warrants or to see your kids spend significantly more time with their other parent. Accepting that your relationship with your former spouse and your kids will change is necessary for both parents. Keep in mind that change happens whether you remain married or not – all parents experience changes as their kids grow up and welcoming these adjustments can help you move forward with your life.
Contact a Joliet Family Law Attorney
More often than not, working with an attorney may continue even after you sign the divorce papers. Parenting plan modifications are a common occurrence for divorced parents, especially as circumstances change in their lives. Whether your parenting schedule is no longer working, one parent wishes to relocate, or your child support payments need adjusting, The Foray Firm is here to help. Our legal team has over a decade of experience helping families through their most contentious moments. For help with your divorce or parenting plan, contact our Will County family lawyers at 312-702-1293 today.
Source:
https://goop.com/wellness/parenthood/conscious-co-parenting-after-divorce/