How to Keep Your Illinois Divorce Costs as Low as Possible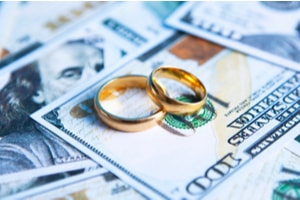 Nothing in this world is free and that holds true for a divorce. The estimates available for the average cost of getting a divorce differ greatly depending on the source. Some sources state you can get a "do-it-yourself" divorce for a couple of hundred dollars, while other sources state that a litigated divorce can cost upwards of $100,000. Certain things can affect the cost of a divorce, such as the type of divorce you get, where you live, the retainer cost for your attorney and your attorney's hourly rate. The cost of getting a divorce can seem daunting, but there are some things you can do to help keep those costs down.
Choose the Right Type of Divorce for Your Situation: When it comes to divorce, you have a few options. You can choose between a traditional litigated divorce, a mediated divorce or a collaborative divorce. Typically, the most expensive type of divorce is a litigated one and can cost you big time when it comes to court costs, filing fees, and attorney rates. If you and your spouse are willing to work together with one person who is knowledgeable of family law, a mediated divorce might work, which reduces the cost of two attorneys to one. If you and your spouse are somewhat contentious but you do not want to litigate the divorce, a collaborative divorce might work for you.
Make Sure You are Organized: Being organized and prepared is key when it comes to saving money on attorney costs. If you come to meetings with your attorney and you do not have the needed documents or information for the topics at hand, you will have to meet with your attorney again, costing you more money in the long run. It pays to be prepared and efficient when it comes to a divorce.
Try to Settle As Many Issues as Possible On Your Own: Another slightly obvious way to save money during a divorce is to try to negotiate as many issues as you can with your spouse without involving your attorney. For example, do not use a meeting with your attorney to hash out the details of who gets which household items if that is something that you and your spouse can work out together. The less time you have to spend with your attorney, the less money you have to pay him or her.
Hire a Skilled Will County Divorce Attorney
If you are concerned about what it will cost to get divorced, there are certain things you can do to ensure you are not paying more than what is necessary. At The Foray Firm, we are not only efficient at what we do, but we also offer a flat-rate divorce for those who want a fixed price prior to beginning the divorce process. Let our knowledgeable Homewood, IL, divorce lawyers assist you with all aspects of your divorce. To schedule a consultation, call our office today at 312-702-1293.
Sources:
https://www.nextavenue.org/lower-cost-divorce/
https://money.usnews.com/money/personal-finance/articles/2015/01/27/how-youre-making-your-divorce-more-expensive