How Shared Parenting Time Can Benefit the Children After an Illinois Divorce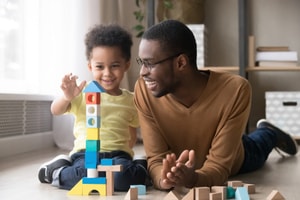 Every parent wants what is best for their child. Some parents may think the best thing for their child is for them to spend all or a vast majority of their time with them and not their other parent. While this can be true in some cases, the majority of divorce cases will end with both parents having shared and fairly distributed parenting time.
When making decisions about child-centered issues such as parenting time, the judge will decide based on what is in the child's best interest. This is why Illinois courts assume that a shared parenting time agreement is in the child's best interest unless there are reasons that would point to otherwise. Studies have shown that children do their best when their parents each have at least 35 percent of the parenting time. Here are a few ways your child can benefit from a shared parenting time schedule:
The Child Gets to Have a Relationship With Both Parents: When the parents split up and no longer live together, children often fear that they will not be able to have the same type of relationship with the parent who moved out. This creates unnecessary stress for the child that could lead to other issues. With shared parenting situations, the child gets to foster a relationship with both of his or her parents, which is important for healthy development.
The Quality of the Parent-Child Relationships Is Better: A shared parenting agreement also helps to ensure that the relationships between the child and each parent are good relationships. With sole parenting arrangements, the parent who moves out often feels distanced from the child and vice versa. The parent who is now acting as the single parent for the majority of the time can begin to feel stressed and overwhelmed by being responsible for all of the caretaking duties. These feelings can cause strain on the parent-child relationships and can cause stress in the family.
Create a Parenting Time Agreement With a DuPage County Divorce Attorney
Perhaps one of the biggest decisions you will have to make during your divorce is how you will care for your children. While a sole parenting time agreement is not out of the question, it may not be what is best for your child. At The Foray Firm, we understand that the decisions that are made about your children are not made lightly. Let our compassionate and skilled Plainfield, IL, parenting time lawyers work with you to develop a parenting time agreement that will benefit both you and your child. Call our office today at 312-702-1293 to set up a consultation.
Sources:
https://www.ourfamilywizard.com/blog/benefits-shared-parenting
https://www.psychologytoday.com/us/blog/co-parenting-after-divorce/201303/equal-parenting-and-the-quality-parent-child-attachments
https://www.sciencedaily.com/releases/2017/08/170830094228.htm