How Is Property Divided During an Illinois Divorce?
Posted on February 13, 2019 in
Divorce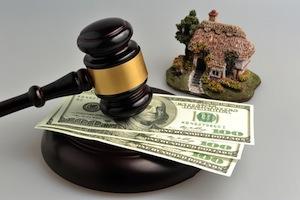 When you are married, your assets become intertwined with your spouse. This can be a good thing that brings much convenience as a married couple, but it can become a huge nightmare if you get a divorce. Before your divorce can be finalized, you and your spouse must come to an agreement over many things, one of them being who gets what property. If you and your spouse cannot come to an agreement on your own, a judge may have to intervene. He or she will follow a specific set of guidelines that are contained in the Illinois Marriage and Dissolution of Marriage Act (IMDMA) when determining how to divide marital property.
Marital vs. Non-Marital Property
Before anything can be split up, it must be determined what is and is not subject to division. According to the IMDMA, any and all property, including debts and other obligations acquired by either spouse during the marriage, is marital property and is subject to division. Non-marital property is not subject to division in a divorce and includes:
Property that a spouse acquired by gift, legacy, or descent or property acquired in exchange for that property
Property acquired by either spouse before the marriage or property acquired in exchange for that property
Property acquired by either spouse after a legal separation
Property excluded as written in a prenuptial or postnuptial agreement
Factors to Consider in Property Division Decisions
Once it is determined what is considered marital or non-marital property, then the judge will distribute the marital property between the two spouses. The judge is not allowed to make decisions based on marital conduct, but will consider, among other relevant issues, the following factors:
The value of the property that will be assigned to each spouse
The duration of the marriage
The economic circumstances of each spouse
Any obligations and/or rights from a previous marriage for either spouse
Any terms of a prenuptial or postnuptial agreement between the spouses
The age and health of each spouse
The occupation, amount and sources of income and employability of each spouse
The needs of each spouse
Contact a Will County Property Division Attorney Today
Divorce can be difficult, because your life is being turned upside down. At The Foray Firm, we understand that you are going through an extremely emotional and challenging time in your life, which is why we are here to help. Our skilled Joliet divorce lawyers can help you and your spouse come up with a property division plan that you both are satisfied with. Call our office today at 312-702-1293 to schedule a consultation.
Sources:
http://www.ilga.gov/legislation/ilcs/ilcs5.asp?ActID=2086&ChapterID=59