How Does Illinois Handle Child Custody Matters For Same-Sex Couples?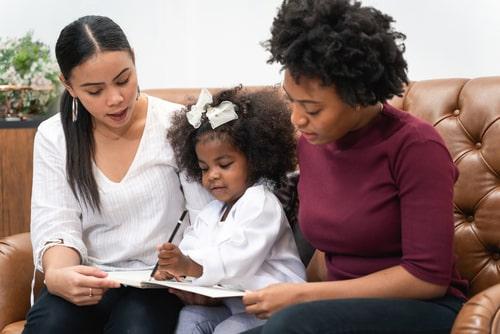 Child custody matters can be complicated for anyone. However, custody and co-parenting concerns can be especially difficult to navigate for same-sex couples.
If you are getting divorced and you have children, you may wonder how the state defines each parent's right to parenting time and parental responsibilities. You may wonder if homosexual couples are treated differently under the law than heterosexual couples. You may worry that you will not have a right to spend time with your child if your same-sex relationship ends. Concerns like these are valid, and the best way to know how best to handle child custody and parentage issues is to work with a skilled family law attorney. Additionally, it is important to understand how Illinois law determines child custody with same-sex parents in a divorce.
Same-Sex Parents and Divorce
The Illinois divorce process is generally the same for same-sex spouses as it is for opposite-sex spouses. However, the details can vary slightly when children are involved, especially when it comes to the allocation of parental responsibilities.
The Illinois Parentage Act states that a birth mother's spouse is presumed by law to be a child's parent if:
The birth mother was married to the other spouse when the child was born.

The child's birth was within 300 days of the married couple's divorce.

The child was born when the couple was married but the marriage was declared invalid.

The spouse married the birth mother after the child was born and the spouse consented to being listed as the child's parent on the birth certificate.
As long as you meet at least one of the criteria listed above, you will have the same right to parenting time as any other parent would after your marriage ends. This means that you have a right to agree upon a parenting plan that describes how you will divide parental responsibilities, or decision-making authority, and parenting time, or the time the child spends at each parent's home. If you cannot reach an agreement on these issues, the court will determine a parenting plan using the same criteria as custody determinations involving heterosexual couples.
What if the Divorce Involves Two Fathers or Two Mothers Who Are Not Biological Parents?
If same-sex partners want to have children, it is always recommended that the non-biological parent adopt the child. If both parents are not biological parents of the child, both parents should adopt the child. This ensures that both parents will have the right to parenting time if the relationship ends. Per Illinois law, a child can only have two legal parents. In some adoption cases, the biological parent may need to relinquish his or her parental rights in order for the adoption to proceed. A parent's parental rights may be involuntarily relinquished if the parent abandons, abuses, or neglects the child.
Unfortunately, if you are not the child's legal parent, you do not have any presumed rights to parenting time after a divorce, nor do you have the standing to petition the court for visitation privileges. With this in mind, it is important that you take any necessary steps to legally formalize the parent-child relationship as soon as possible, rather than waiting for a divorce to try to assert your rights.
Contact a Joliet Child Custody Lawyer
If you are getting divorced and you are in a same-sex marriage, you need an attorney who understands the unique challenges you may encounter. Contact a Homewood family law attorney from The Foray Firm for help. Call 312-702-1293 today for a confidential consultation.
Source:
https://www.ilga.gov/legislation/ilcs/ilcs5.asp?ActID=3638&ChapterID=59