How Can I Prepare For My Adoption?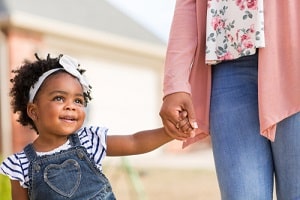 Adopting a child can be one of the most rewarding decisions you can make. Not only are you giving a child a home, but you are also expanding your family and building a special bond with another child. There are a number of things that you should complete before you finalize the adoption. Of course, there are fun things to do, like build a nursery and pick out baby clothes, but there are also a number of practical things that you should consider. These may not be as exciting as decorating the home your baby will come home to, but they are exceedingly important since the first year with a new child can be a busy one.
Talk to Your Workplace
There are a few things that you should hammer out with the company or business that you work at. In the same way that new biological mothers get maternity leave, you should discuss your options to have a similar experience as a new mom. Nowadays, many companies even allow men to have paternity leave to help care for their newborn. You should also ask the appropriate staff member about your healthcare plan if your employer provides it to you. For brand new parents, you must make sure your healthcare plan will cover your new child. This is crucial to do before your child comes home since there will likely be many doctor visits in their first year with you.
Find the Appropriate Care
Locating a pediatrician can help save you a headache and can save your child's life in an emergency. Rather than waiting until your child gets sick or injured, you should already have a pediatrician in mind that works with your insurance and fits your family. Depending on your work schedule and flexibility, you may also need to locate child care providers. You will likely have some time off from work to adjust to your new lifestyle; however, once that short period ends, you will need someone to care for your child. Reach out to nearby daycares or contact reputable nannies to ensure that your baby will have someone looking after them when you are back at work.
Do Your Research
This is important for new parents and for couples who have never adopted a child before, even if they have a kid or two of their own already. Adopting is a much different experience than having a child. Of course, the logistics are different, but the acclimation process is also unique. Newborn babies will have a similar experience when coming home for the first time since everything is unfamiliar to them. But, for couples bringing home a child who is a few months or years old, the unfamiliarity of you and your house can be daunting and can lead to many sleepless nights. By doing your research on how to comfort and acclimate your adopted child, you can help smooth this transition and get a few more hours of sleep at night.
Call a Joliet Adoption Lawyer For Help
A vital step in the prepping process is finding a reputable adoption attorney to help you with the legal portion of the adoption. As you can see, there are a number of things you must do before bringing your child home — the legal portion is something that you should let a professional be responsible for. The Foray Firm has assisted numerous Will County couples to expand their families by adopting a child who needs a home. We understand that adopting a child can be an exciting and stressful process all wrapped into one — we want you to focus on the excitement while we handle the legal details. If you are considering adopting, contact our Homewood adoption attorneys at 312-702-1293 to schedule your consultation.
Source:
https://www.parents.com/parenting/adoption/facts/surviving-the-wait-for-your-adopted-baby/