How Are Child Support Payments Calculated in Illinois?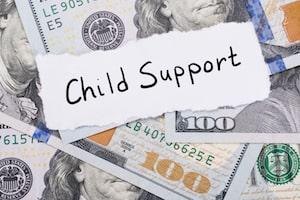 When most people get a divorce, they no longer live together. This can be problematic for couples who have children, because the question of where the children will reside must be settled. These days, it is not unusual for both the mother and the father to have equal or similar parenting time. If the parenting time is not equal, the parent who has the child the majority of the time will typically be responsible for providing child support. In Illinois, a child will receive support payments until they turn 18 or 19, as long as they are still attending high school.
Basic Child Support Calculations
The Illinois Department of Healthcare and Family Services has set forth specific rules for child support, including how to calculate the amount of the payments. First, each parent's monthly net income is calculated. Then, both parents' monthly net incomes are added together. Next, the number that corresponds with the parents' combined monthly income is taken from the basic child support obligation table. The amount from the table is the amount that should be used by the parents each month to meet the child's basic needs.
Who Pays What?
Now that you know how much should be paid each month for your child, you must determine how much each parent is responsible for providing. This is determined by looking at the percentages of each parents' monthly contribution to the combined net income. If a parent's income makes up 62 percent of the household's net monthly income, then that parent is responsible for paying 62 percent of the basic child support obligation amount.
An Example Case
Jennifer and Tom have three children together, and they are getting a divorce. Tom has a net monthly income of $4,800 and Jennifer has a net monthly income of $4,400. Their combined net monthly income is $9,200. According to the basic child support obligation table, their obligation to their children is $2,442. Jennifer's income is 47.8 percent of the household's total monthly income and Tom's income is 52.2 percent of the household's total monthly income. This means that Jennifer is responsible for $1,167.28 of the total support obligation and Tom is responsible for $1,274.72 of the total support obligation. Since Jennifer has the children a majority of the time, Tom will pay $1,274.72 to her each month.
Contact a Will County Family Law Attorney
For many families, child support is a necessary part of making sure that the children get everything that they need. However, there are a variety of factors that can affect the amount of child support payments, so it is essential to work with an experienced attorney to ensure that child support is calculated correctly. If you are going through a divorce, the skilled Plainfield child support lawyers at The Foray Firm can help you make sure your child is getting the support they deserve. Call our office today at 312-702-1293 to schedule a consultation.
Sources:
https://www.illinois.gov/hfs/SiteCollectionDocuments/IncomeSharesScheduleBasedonNetIncome.pdf
http://www.ilga.gov/legislation/ilcs/ilcs4.asp?DocName=075000050HPt%2E+V&ActID=2086&ChapterID=59&SeqStart=6100000&SeqEnd=8350000