Four Tips For Successful Co-Parenting After Your Illinois Divorce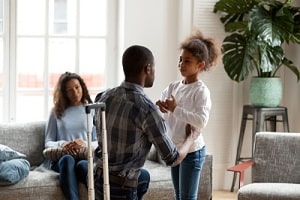 When you have children, one of the hardest aspects of life after a divorce is figuring out how to be a successful and effective co-parent. This can be especially difficult for couples who no longer get along with one another or who had a very contentious divorce. Though you may wish you were rid of your spouse, having children with them prevents that from being possible. It is your job to work together with your ex to make sure you can provide a secure and loving childhood for your kids. Co-parenting after your divorce is one of the toughest things you will learn to do, but it is also one of the most important. Here are a few tips to help increase your chances of co-parenting success:
Put Your Feelings Aside: This is perhaps the most important tip of all. You and your spouse need to make sure you are putting your feelings to the side and focusing on the wellbeing and happiness of your children. Your children should be the most important part of your life, and ensuring their happiness is more important than the issues you have with your ex.
Work on Communication With Your Ex: Though it may be tough, communication is key when it comes to co-parenting. You should be aiming for peaceful and purposeful communication between you and your ex, all for the benefit of your children. You should keep your ex in the loop when it comes to your child and you should make sure you are including them in any major decisions involving your child.
Stay as Consistent as Possible: It is also important to keep a sense of consistency between the two households for the sake of your children. Obviously, not everything will be the same at both your and your ex's homes, but general routines and rules should stay the same so your child has a sense of consistency and familiarity.
Remind Your Children That You Love Them: This is also important because it is common for children to blame themselves for the divorce. You should reassure your children every now and then that both you and their other parent still love them very much and that your issues have nothing to do with them.
Hire a Compassionate Will County Family Law Attorney
At The Foray Firm, we understand that it is often difficult for divorcing parents to transition to life as a single parent, while still taking into account the other parent. Our skilled Joliet family law lawyers can help you and your spouse have a solid and comprehensive parenting plan in place to help reduce any uncertainties after the divorce. Call our office today at 312-702-1293 to schedule a consultation.
Sources:
https://www.helpguide.org/articles/parenting-family/co-parenting-tips-for-divorced-parents.htm
https://psychcentral.com/lib/cooperative-co-parenting-for-the-divorced/
https://pro.psychcentral.com/exhausted-woman/2018/07/10-essentials-of-co-parenting-after-a-divorce/