Finding Things You Can Look Forward to in Your Life After Divorce
Posted on August 20, 2019 in
Divorce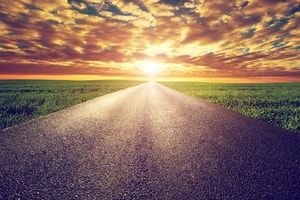 Almost everyone will agree that divorcing your spouse is difficult. Ending such an important relationship is hard for anyone, whether the decision to end the marriage was mutual or not. Even if you and your spouse both agree that the marriage should end, the emotional process of breaking up is difficult and often mimics the emotional process of grief. Though your partner is still alive, in many ways you are grieving the death of your relationship with them. Though it can feel counterintuitive and extremely draining at times, there are actually some major benefits that you can discover after your divorce.
You Can Focus on Your Personal Goals:

Without a spouse whom you constantly have to consider when making major life decisions, you can begin to focus on your personal goals. If one of your goals is to go back to school and earn a degree, you can do it. If you want to start your mornings with meditation, nobody is stopping you. Being divorced means you are free to do whatever makes you happy.

Shared Parenting Time Means More Free Time:

One of the things that many divorced parents fear is not being able to take care of their children all of the time because of shared parenting schedules. While you will still miss your children while they are with their other parent, it also means there will be times when you will be child-free. You will not have to figure out who will babysit your kids if you want to go out with friends. You will not have to wake up early to get your children off to school. You can cherish the time you spend with your children, but you can also enjoy your days off.

You Get to Rediscover Who You Truly Are:

Many people cite their divorce as one of the best things that ever happened to them. One of the main reasons why people tend to be so happy after a divorce is because they get to reconnect with themselves. People who have been married, especially those in long-lasting marriages, can lose their identity sometimes. Rather than knowing who you are as an individual, you only know who you are as part of a couple. Divorce allows you to get back in touch with your individual self so you can be the best person you can be.
Contact a Markham, IL, Divorce Lawyer to Help Finalize Your Divorce
One of the ways you can make sure you are in a good place once your divorce is finished is by hiring a skilled Will County divorce attorney. At The Foray Firm, we understand how difficult a divorce can be for your entire family. We can help you settle any issue pertaining to your divorce, from property division to parenting time. Do not settle for less than what you deserve; call our office today at 312-702-1293 to schedule a consultation.
Sources:
https://www.huffpost.com/entry/silverlinings-to-divorce_n_7495296
https://www.psychologytoday.com/us/blog/the-intelligent-divorce/201309/seven-ways-thrive-after-divorce
https://www.everydayhealth.com/emotional-health/life-after-divorce-12-ways-rebuild-your-life/