Filing an Uncontested Divorce in Illinois
Posted on November 30, 2019 in
Divorce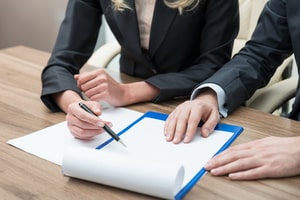 Contrary to what you see in movies and television shows, settling your divorce case in court is almost always a last resort. Illinois courts highly encourage couples to try to make decisions pertaining to their divorce on their own without outside intervention. Not only does that save you time and money, but it also allows you to keep the control in your hands and enables you to decide your own future. Some couples have tried to avoid going to court and are unable to come to their own resolutions, but most couples see the benefit of settling their divorce outside of court or filing for an uncontested divorce.
What is an Uncontested Divorce?
Almost all divorces contain the same issues that must be settled before the divorce can be completed. These issues include:
An uncontested divorce occurs when couples can come to an agreement on these issues without having to go to court multiple times and involve a judge. Therefore, in the simplest terms, an uncontested divorce is a divorce that is settled without the intervention of a judge or court.
Benefits of Filing an Uncontested Divorce
Though an uncontested divorce is not possible for everyone, there are many benefits to filing an uncontested divorce rather than a litigated one. One of the major benefits of an uncontested divorce is the fact that these kinds of divorces are often more civil and result in much less stress for the entire family. Uncontested divorces also allow you and your spouse to determine your own future, rather than leaving the decision-making power in the hands of a judge who does not know your family or what would be in your best interest. Finally, if you are able to file an uncontested divorce, you have a much higher chance of finding an attorney who would be willing to file your divorce for a flat fee or a much lower cost than if you were to litigate your divorce.
A Will County Uncontested Divorce Attorney Can Help You With Your Case
Divorce litigation is often a lengthy and rather expensive process. If you are able to file for an uncontested divorce, doing so will likely be the most beneficial to your situation. At The Foray Firm, we have experience handling both contested and uncontested divorces and can help you no matter the level of conflict between you and your spouse. Call our skilled Markham, IL, uncontested divorce lawyers today at 312-702-1293 to schedule a consultation.
Sources:
https://www.mydomaine.com/what-is-an-uncontested-divorce-1103297
http://www.ilga.gov/legislation/ilcs/ilcs5.asp?ActID=2086&ChapterID=59