Family Law Information for Domestic Violence Victims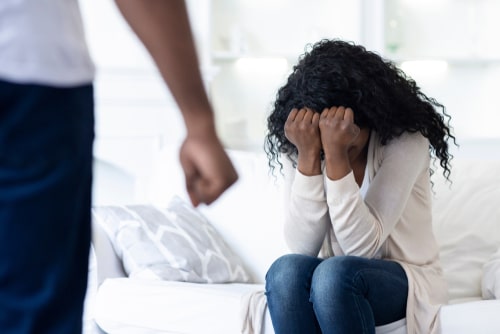 Domestic violence can happen to anyone. Domestic abuse reflects negatively only on the abuser, never the victim. You might feel trapped in your marriage or relationship because you share children with the abuser, or you are married to them, or even because they have taken steps to unlawfully restrict your liberty. Others feel they have to stay because they are financially dependent on the abuser. Whatever is keeping you trapped in your dangerous relationship, there is a way out. If you are one of the millions of people who will experience violence at home this year, there are steps a lawyer can take to help you get out safely. Whether you need a divorce or are concerned about the safety of your children, there are likely ways that a family law attorney can help.
How Does Illinois Family Law Protect Family Violence Victims?
When you are ready to safely exit your abusive relationship, here are some protections that may be available to you:
Protection orders - A lot of people are afraid to exit their relationships because they have nowhere else to go. A protective order can force the abuser to immediately leave your home, no matter whose name it is in. These orders also prevent the abuser from interfering with your housing or utilities or contacting you. It can also give you temporary emergency custody of your children and order the abuser to pay child support.
Domestic violence affects custody - If you have children in common with your abuser, you should know that a family law court will consider domestic violence when deciding on child custody concerns. Courts put the safety and wellbeing of the children first and foremost and will be reluctant to allow someone with a history of violence to spend unsupervised time with children.
Public resources - There are community resources available to those who are fleeing domestic violence. A family law attorney can help connect you to these resources so that you and your children's needs can be met in the abuser's absence.
Defining domestic violence - The legal definition of domestic violence in Illinois is not limited to simple physical abuse, although that is certainly included in the definition. If your partner threatens or harasses you, or interferes with your personal freedom - like by preventing you from leaving or blocking you from exiting the home - courts will look at these behaviors as a form of domestic violence.
Keep in mind that domestic violence almost never gets better - it only escalates. The sooner you are out, the better.
Contact a Will County Domestic Violence Attorney
The Foray Firm is committed to helping to protect victims of family violence. Our Homewood domestic violence lawyers will use our knowledge of family law to help you and your children safely leave. Call 312-702-1293 for a consultation when you can safely do so.
Source:
https://illinoisattorneygeneral.gov/women/ordersofprotection.html#:~:text=An%20order%20of%20protection%20is,personal%20liberty%2C%20or%20willful%20deprivation)