Do I Need Permission From My Child's Other Parent to Relocate?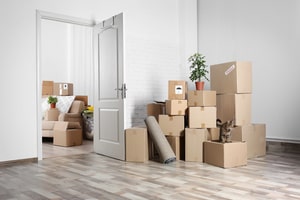 After getting divorced, many individuals will choose to have a fresh start, and for some, this means moving to a new place in a new location. For those going through the major life changes that inevitably come with divorce, this fresh start can be a good way to move forward towards a future that is focused on their happiness. However, for those with children, it may not be that easy. Divorcing couples with children will forever be connected by their shared kids. With parenting time agreements and child support payments, it may feel as if this new beginning may never start. Making the decision to move with your children may be restricted depending on the circumstances, and it is important to avoid violating this restriction as it can lead to serious legal consequences.
What is Considered Relocation?
Not every change of residence is considered relocation. For instance, the state cannot restrict you if you would simply like to move down the street to start fresh in a new house. However, anyone looking to relocate with their children will need permission from their child's other parent or from the court. So, what is considered relocation by Illinois law?
If the child's current primary residence is in DuPage, Cook, Lake, Kane, McHenry, or Will County and you move them to a location within Illinois that is more than 25 miles from their current residence

If the child's current primary residence is not in one of the abovementioned counties and you move them to a location in Illinois that is more than 50 miles from their current residence

If you move the child outside of the state of Illinois and their new residence is over 25 miles away from their current residence
How Do I Get Permission?
If the parent who is the primary caretaker of the child would like to relocate with their child, they will need to provide their child's other parent with written notification of their intent to move. This must be done 60 days before the parent and child intend to relocate, and it must inform the other parent of their intended move date, their new residence's location, and the length of time that the relocation will last if it is not intended to be indefinite. The non-relocating parent is able to sign the relocation notice, granting the moving parties permission to do so, if they are comfortable with the relocation taking place. If this is the case, court permission is not required. However, many parents may not be comfortable with their child being so far away from them. If the non-moving parent refuses to sign the notice, the relocating parent may file their request with the court. The court may also deny the request; however, they will be looking at the request from a much different perspective. With no emotional investment to the parents or child, the court can act as the necessary third-party to determine whether or not this move is really in the best interests of the child. In many cases, impartial judgment may be necessary as emotions can often cloud a parent's judgment on both ends.
Call a Will County Parent Relocation Attorney
Being notified that your child's parent is taking them far away from you can feel as if you are already losing your relationship with them. For some children, this fresh start may lead to better opportunities. For others, this move can be a ploy to keep them from seeing their other parent. The same goes if you are the parent attempting to relocate. In many cases, your child's other parent may be restricting your move out of spite or old feelings of resentment from your marriage. At The Foray Firm, our experienced family law attorneys work to do what is best for your family. Our attorneys have handled numerous relocation cases, putting your child's best interests at the forefront of our work. Whether you are hoping to relocate or are struggling to keep your child in Illinois, we are here to help. Contact our Joliet parent relocation lawyers at 312-702-1293 to schedule a consultation.
Source: http://www.ilga.gov/legislation/ilcs/ilcs4.asp?ActID=2086&ChapterID=59&SeqStart=8300000&SeqEnd=10000000