Dealing With Marital Debt During an Illinois Divorce
Posted on September 19, 2019 in
Divorce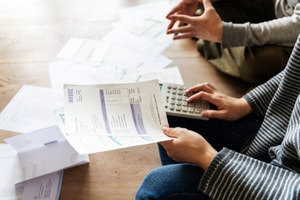 The majority of your negotiations during your divorce will involve you and your spouse fighting over what each of you wants out of the divorce. One of the only things you and your spouse will not be fighting to keep are the debts that the two of you incurred during your marriage. In an ideal world, you and your spouse would each walk away from the marriage with only the debts that you each created, but that is not how divorce works. Illinois divides marital assets and debts on an equitable basis, which typically means you will only be responsible for the debts that you have the means to repay. If you and your spouse have a difference in income, the spouse with the higher income will typically be responsible for more of the marital debt.
Go Into Your Divorce Debt Free
Most divorce attorneys will tell you that your troubles can be cut in half if you go into your divorce without any marital debt. Lenders typically do not care about divorce decrees, nor are they legally required to abide by them. Lenders just want their money. If your spouse is ordered to repay a certain debt that also has your name on it, you are still legally responsible for that debt after divorce and can suffer the consequences if that debt is not paid back. Still, it is unfeasible for many couples to repay all of their debts before getting a divorce, though you should repay as much as you can.
Allocating Secured and Unsecured Debts
Handling debts during a divorce can be done in a few different ways, depending on the type of debt it is. Secured debts, or debts that are secured by a certain asset, such as a house or car, typically require refinancing if one spouse is keeping the asset and both spouses are on the debt agreement. To release one spouse from being legally obligated to repay a secured debt, the spouse who is keeping the asset must qualify for refinancing on his or her own.
Unsecured debt is debt that is not linked to any specific asset. If a debt is unsecured, this means the lender does not have the legal right to repossess a property if you are delinquent with payments. The most common type of unsecured marital debt is credit card debt. Credit card debt is slightly easier to deal with when allocating because a debt balance can easily be transferred to an account or credit card in just one spouse's name.
Hire a Will County Divorce Attorney to Help You Allocate Your Debts
It can be difficult and stressful when it comes to dividing your marital debts. A knowledgeable Joliet, IL, divorce lawyer can help you understand your rights when it comes to debt allocation and how to obtain a balanced allocation of assets and debts. At The Foray Firm, we understand what kind of impact the allocation of your assets and debts can have on your financial future. Your first step in ensuring your financial success after your divorce is to schedule a consultation with our lawyers. To set up a time to discuss your finances, call our office today at 312-702-1293.
Sources:
https://www.thebalance.com/dealing-with-debt-during-divorce-960632
https://www.creditcards.com/credit-card-news/help/dividing-credit-card-debt-divorce-6000.php
https://www.huffpost.com/entry/marital-debt_n_4861960