Can You Kidnap Your Own Child in Illinois?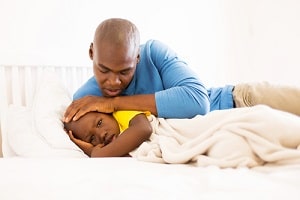 When parents are in the middle of a battle over the allocation of parental responsibilities, the state of affairs can be intense. In some cases, the parenting dispute can result in one parent taking the child without the consent and knowledge of the other parent or the court. Despite their status as a legal parent, this still qualifies as "kidnapping" or "child abduction" and can turn a civil case into a criminal case with harsh consequences for the offending parent.
Child Abduction
Kidnapping is a felony in Illinois, and a conviction can result in fines, probation and jail time. An individual will be charged with child abduction when he/she does one of the following:
Intentionally disobeys the terms of a legal court order granting sole or joint parental responsibility, care, or possession to another individual

Intentionally hides, withholds, or takes the child without the mother's or legal guardian's consent if the person is the assumed father but his paternity has not been legally confirmed or there have been no orders relating to parental responsibilities

Intentionally fails, refuses or hinders the return of the child to the legal guardian or parent

Knowingly conceals, detains, or removes the child in exchange for payment from an individual who does not have a legal right to the child

Intentionally entices or attempts to lure a child who is younger than 17 or traveling to or from school without the consent of the child's parent or legal guardian for other than a lawful and legal purposes
Orders of Protection
If you are worried that your parenting battle may result in the kidnapping of your child, you are able to ask the court to file an emergency order of protection. If you are able to prove an emergency situation may arise, the court will enter the order of protection before notifying the other individual. This is only temporary, but a permanent restraining order can be established as a result of a trial involving the accused party.
Contact a Joliet, Illinois, Family Law Attorney Today
If you are in the midst of a battle for parental responsibilities or need help filing an order of protection, contact a skilled Homewood, Illinois, family law attorney at The Foray Firm. We will be sure to provide you and your child with peace of mind. Schedule a consultation by calling 312-702-1293 or sending us an email.
Sources:
http://www.ilga.gov/legislation/ilcs/ilcs4.asp?ActID=2086&ChapterID=59&SeqStart=8300000&SeqEnd=10000000
http://www.ilga.gov/legislation/ilcs/fulltext.asp?DocName=072000050K10-5