Am I Responsible for My Spouse's Credit Card Debt in Divorce?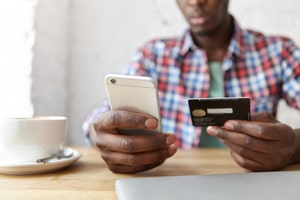 When going through a divorce, there are often two areas that bring about the most contention: children and finances. These two subjects can sometimes bring out a side of your spouse that you have never seen before. Financially speaking, a divorce forces you to look into the nitty-gritty details of both you and your spouse's spending habits. Couples may think they know their partner until hidden debts get revealed. Whether or not you were the hand behind the spending, you may be responsible for paying these dues during the marital asset division process.
Equitable Distribution
Like most states throughout the U.S., Illinois follows the equitable distribution model when dividing marital property in a divorce. This means that all assets and debts are divided equitably, not necessarily in half. In other words, the judge considers various factors before dividing anything up between spouses. This includes each spouse's income, financial needs, and personal assets. The asset division process not only includes positive property owned by the couple, but also any debt incurred throughout their marriage. This must also be divvied up between the two individuals, especially any credit card debt that has accumulated over the years.
What About Credit Card Debt?
Unfortunately, some spouses may uncover large amounts of credit card debt that they were unaware of and not responsible for during the divorce process. Though your spouse may have been the one spending the money, if your name is tied to the account in any way, you are still on the hook for the amount owed. A divorce agreement cannot alter your contractual obligation to the creditor who lent your spouse the money that they spent using the card.
While you may not be able to avoid owing a portion of the credit card bills, proof that you were not involved in the spending process may make you eligible for more money in the asset division process. A judge may recognize that you were unaware of your spouse's spending and provide you with additional assets or spousal maintenance payments to make up for your debt payments. Proving that you were not involved in the credit card debt accumulation will be difficult without a seasoned legal professional by your side. Experienced attorneys have the resources available to help you search for evidence that proves your innocence in the matter. Whether it is directing you to a reputable financial planner or private investigator for additional assistance or helping you personally with your research, your attorney taking the extra time to read between the fine lines of your financial statements is critical in your divorce.
Call a Joliet Asset Division Lawyer for Help
Many divorcing couples may be surprised by what they find out about their spouse during the legal proceedings. The revelation of immense credit card debt may send you reeling, leaving you concerned about how you will make ends meet with these newfound costs. At The Foray Firm, we have assisted numerous clients with their divorce proceedings, including those who have had the financial rug ripped out from under them. Attorney Masah SamForay has over a decade of experience assisting clients with the most complex legal family matters and works tirelessly for each of her client's unique situations. If you are filing for divorce, contact our Will County property division attorney at 312-702-1293 for a consultation.
Sources:
https://creditcards.usnews.com/articles/how-credit-card-debt-is-handled-in-divorce
https://www.ilga.gov/legislation/ilcs/documents/075000050k503.htm