5 Safety Tips for Divorcing an Abusive Spouse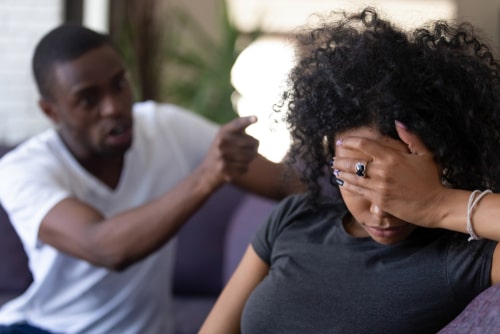 On average, it takes victims of domestic violence or spousal abuse seven attempts to leave the abuser before they finally succeed. The reasons that so many women - and sometimes men - stay in abusive and dangerous relationships are complex. Abusers often isolate their victims from others who could help them and create a situation where the victim is financially dependent on the abuser. Others stay because the abuser has threatened to harm them or their children should they leave. If this is the situation you are in, you should know that there is a way out. If you are ready to seek a divorce and a safe exit from your abusive marriage, there are steps an attorney can take to help protect you. The Foray Firm is committed to helping people who are facing spousal abuse stay safe during and after the divorce process.
What if I am Financially Dependent on My Abusive Spouse?
In Illinois, as soon as you file for divorce, your attorney can seek a temporary spousal maintenance order. In situations where a financially dependent spouse is seeking to leave an abusive marriage, these orders are typically granted. Your spouse can be ordered to continue supporting you financially as you leave.
Staying Safe When Leaving an Abusive Spouse
No one deserves to be trapped in an abusive marriage. Domestic violence is always the offender's fault and never the victim's. Leaving an abusive marriage can be very scary. When you are ready to take this brave step towards building a new life for yourself, there are some steps you and your attorney can take to keep you safe. Ways to stay safer include:
Protection order - One of the benefits of a protection order is that it allows you to remain in your home by forcing the abuser to leave. If you have children, they can be included as protected parties. These orders prevent your spouse from coming to your home or workplace, and even your children's schools. Your abuser will be arrested if he violates the order.
Spread the word - It may be wise to alert your neighbors to the situation so that they know to call the police if they see your abuser around your home. You may also want to advise staff at your children's schools and people you work with if you work.
Locks and alarms - Change the locks right away. Install deadbolts if you can. Use broom handles or pieces of wood to block any sliding glass doors and your windows. Inexpensive door alarms can alert you to any attempted intrusion immediately.
Personal protection - Carry pepper spray or a stun gun. Consider taking a self-defense course.
Safe Homes Act - If you need to break your lease early to leave, you can do so without any financial penalty from your landlord. You will not be charged an early termination fee.
Address confidentiality program - If you do move, Illinois has a program that you can use to keep your address confidential. You will be given a "dummy" address to use. This can help stop your spouse from finding you.
While leaving an abusive marriage can be frightening, it is always worth it.
Call a Will County Divorce Lawyer
The Foray Firm takes the safety of spousal abuse victims very seriously. Our dedicated Homewood divorce attorneys will do everything in our power to keep you safe during this time. Contact us online or call 312-702-1293 to start with a free consultation.
Sources:
https://www.ilga.gov/legislation/ilcs/ilcs3.asp?ActID=2817&ChapterID=62
https://www.illinoisattorneygeneral.gov/victims/address_confidentiality.html