4 Ways Staying in a Bad Marriage Can Affect Your Children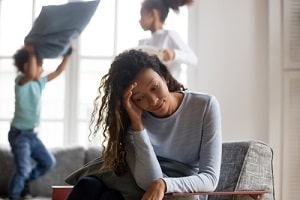 When it comes to making the decision to get a divorce, one of the biggest reasons couples hesitate to begin the process is because of their children. A rather common question that couples have when deciding whether or not to get a divorce is, "How will it affect the children?" While there is no one specific way divorce affects children, it is known that children can and will bounce back after their parents get divorced. Many couples think that staying together for the children is the best option, but it is, in fact, the opposite. Here are a few ways that staying in a bad marriage can have a negative effect on your children:
Your Kids Can Develop Low Self-Esteem: Children absorb everything around them. When they are living in a household where mom and dad are fighting all of the time, they may begin to feel unsure of themselves or even rejected. Children will internalize their emotions, and constant fighting can cause them to develop feelings of unworthiness.
Your Kids Will Be Living with Chronic Tension: If you can feel the tension between you and your spouse, your children can feel it too. Subjecting a child to a home that is filled with chronic tension is never a good idea. Children will begin to feel uneasy in their own homes and will walk on eggshells around their parents to try to prevent any more fighting.
They Can Develop Intimacy Issues: Children who come from unhappy homes can also have issues in their own relationships when they get older. They saw how their parents interacted as they were growing up, so they tend to steer clear of any type of intimacy because they fear they will be hurt. Even when they do enter into an intimate relationship, they tend to remain reserved, cautious, or guarded.
They Can Develop Mood or Behavioral Issues: Many children whose parents are constantly bickering or fighting tend to develop mood or behavioral issues. Children who come from households full of tension tend to struggle with problems such as dysthymia, depression, anxiety or even personality disorders or substance abuse. These children may also have behavioral issues, such as difficulty managing their anger.
A Homewood, IL, Divorce Attorney Can Answer Any Questions You May Have
It is no secret that a divorce can be tough on everyone in the family, especially the children. As a parent, you have a responsibility to protect and care for your children. In some cases, getting a divorce may do just that. Though it may be rough for a little while, your children will be happier and healthier in the long run. If you have questions about the divorce process or how to get started, contact The Foray Firm. Our skilled DuPage County divorce attorneys can answer any questions you may have about the process. Call our office today at 312-702-1293 to set up a consultation.
Sources:
https://www.psychologytoday.com/us/blog/when-kids-call-the-shots/201703/why-bad-marriages-are-worse-kids-divorce
https://www.huffpost.com/entry/7-ways-you-can-damage-your-kids-by-staying-in-a-bad-marriage_n_573b4845e4b0646cbeeaf9a9