4 Tips for Parents Coping With Their Divorce
Posted on December 03, 2020 in
Divorce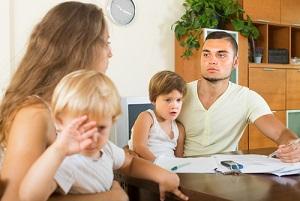 Divorce can impact everyone in its own way. For some, they may feel an immediate sense of loss for their partner, even if they know they are better without each other. For others, they may feel instant gratification and freedom, only to be hit by negative emotions months later. Divorce is never a one-size-fits all emotional experience, which can make it difficult to know how to cope with your feelings. This is especially true for parents as their focus is divided between comforting their children and themselves. In many cases, parents can make their own emotional healing take a backseat and leave themselves struggling with these emotions for months or even years.
Protect Yourself and Your Children
There is no surefire way to make your divorce easier, but there are some things you can do to help yourself cope. By doing so, you can also put yourself in a better position to help your children.
Below are four tips for parents who are going through a divorce to help them cope with their emotions and move forward with their lives stronger than ever before.
Take care of yourself emotionally and physically - A parent's main priority is to be there for his or her kids, but some parents can take this so far that they forget to care for themselves. What many parents do not realize is that by not taking time for themselves, their ability to be fully present and available for their children begins to diminish. It is equally important for parents to set aside time for themselves, either through exercise, counseling, or other methods of self-care, as they would for their kids. This will give you the alone time necessary to move forward personally and help your kids handle the impact of your divorce.
Do not rely solely on yourself - While time on your own is important to sift through your emotions and become comfortable with your newfound independence, you should seek an outlet to talk through your feelings. This can be a licensed professional, a support group, a family member, or a close friend. Even if the person that you select has not had a personal experience with divorce, being able to say your feelings out loud has the power to help you let them go.
Limit interactions with your co-parent - For couples without children, the spouses may never see one another again after the divorce is final. The same is not usually an option for divorcing parents. It is inevitable that you will need to communicate with your co-parent about dropoffs, pickups, your kids' latest life events, and more, but this communication should be limited immediately following your divorce. Seeing your former spouse will undoubtedly be painful and it can hinder your ability to move on. Keep your communication limited and distant to respect the boundaries of your emotions and your recent divorce.
Try something new - It may seem like a cheesy suggestion to pick up a new hobby, but this can be really helpful in the grand scheme of things. Not only will it take your mind off your divorce, but it will also introduce you to new people and help foster your newfound independence. It can be easy for hobbies and personal interests to get buried when your marital relationship is on edge. Picking up an old or new hobby can remind you of the other joys in life and help you recognize the parts of you that got lost in your relationship.
Contact a Joliet Divorce Lawyer for Help
On top of handling your own emotions and caring for your kids, the legal process of divorce can set you over the edge. Divorce is rarely cut and dry, and you will likely be forced to revisit the parts of your relationship that you loved and those that you did not. The legal process can be more emotional than expected, and our compassionate legal team is here to handle the logistics on your behalf. The Foray Firm recognizes the numerous difficulties that come along with divorce, especially for parents, which is why we dedicate our firm to preserving the dignity of families in transition. If you are a parent who is considering filing for divorce, contact our Will County divorce attorneys at 312-702-1293 today.
Source:
https://www.mhanational.org/separation-and-divorce