3 Things That Could Make Your Prenuptial Agreement Invalid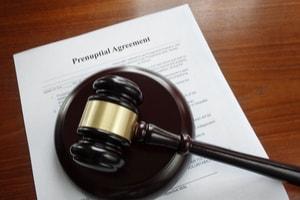 Talking about divorce even before getting married is never something that couples want to do -- but sometimes it is a good idea. Prenuptial agreements are gaining more and more popularity with younger couples, especially because the average age of marriage is higher than it has ever been before. This means that couples are more likely to bring their own significant assets into a marriage, such as real estate property or retirement accounts. Prenuptial agreements (commonly known as "prenups") can be tricky to create, especially since they can be declared invalid if they are not constructed carefully and correctly. Here are three mistakes you should avoid making when drafting a prenuptial agreement:
1. Not Being Truthful About Your Assets
When entering into a prenup, both spouses are required to fully disclose their assets to each other, including all property and debts. If one spouse tries to hide or undervalue certain assets, the entire prenuptial agreement could be dismissed by a court.
2. You Did Not Obtain Independent Counsel
Though it is not technically required by Illinois law to have an attorney when you enter into a prenuptial agreement, it is a good idea. When you and your spouse each have your own independent legal counsel, this tells the court that you both knew what you were signing and understood what the terms of the agreement meant. An argument could be made that one spouse did not fully understand the contract if he or she did not have an attorney, and this could be a reason for the agreement being found to be invalid.
3. You Signed the Agreement Too Close to the Wedding
Another requirement of a valid prenup is that it must be signed by both spouses -- but not while one spouse is under duress. This means that it is unacceptable for either spouse to coerce the other into signing the agreement. Waiting until the wedding is a few days away before introducing a prenuptial agreement can be a sign to the court that the agreement was made under duress, and this may be a reason for the agreement to be declared invalid.
Hire a Will County Prenuptial Agreement Lawyer to Help You Draft a Solid Agreement
While it is true that talking about the end of your marriage is not the most romantic of topics, it can be one of the most beneficial things you and your soon-to-be spouse do before you tie the knot. A prenuptial agreement can provide you with a framework to follow if your relationship ever ends, removing a great deal of stress and uncertainty from the divorce process. At The Foray Firm, we understand that discussing and agreeing on a prenup is a delicate situation, and our experienced Joliet family law attorneys can help you draft a solid and sound agreement that will benefit both you and your spouse. Call our office today at 312-702-1293 to schedule a consultation.
Sources:
https://www.huffpost.com/entry/10-common-prenup-pitfalls_b_4214860
https://www.forbes.com/sites/jefflanders/2013/04/02/five-reasons-your-prenup-might-be-invalid/#25a9278719a5
https://www.forbes.com/sites/christinefletcher/2018/09/18/10-things-you-need-to-know-about-prenups/#456112f862ba