Tips for Surviving the Holidays After a Divorce
Posted on December 20, 2019 in
Divorce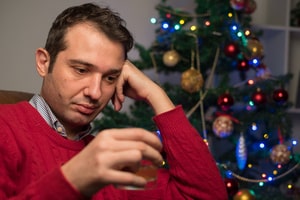 Going through a divorce is tough, but going through a divorce during the holidays can add to the hurt.
If this is your first holiday season since separating from your spouse, it is natural to feel lonely and sad. It is important to not let these emotions control you and prevent you from enjoying the holidays. Here are a few tips and tricks to help you maintain your mental health and manage your stress throughout the holidays:
Take It One Day at a Time: It is only natural to want to rush through a time in your life that you would rather not be present for. Remain focused on the here and now, and take each holiday as it comes.
Do Not Skip Out on Spending Time with Family and Friends: As much as you want to spend time alone, your family and friends are your support system and people you should lean on during this hard time. If an invite is offered, take it.
Volunteer Your Time: The holidays are about giving, and volunteering at a soup kitchen or homeless shelter will take your focus off of your problems. Helping others who are less fortunate than you will make you realize how much you have to be grateful for.
Make New Traditions: Avoid dwelling on the traditions you lost or will lose because of the divorce, and make some new ones. There is no better time than the present to begin anew.
Take a Break from Social Media: Scrolling through social media and seeing other people's "perfect lives" will only make you feel worse. Delete any social media app you may be tempted to use, and enjoy your mini social media cleanse.
Do Not Numb the Pain: Indulging in drugs or alcohol may seem like a quick and easy way to forget what you are going through, even if it is for a short amount of time. When emotions are high, mixing pleasure and pain can lead to tears, angry outbursts or worse. If you plan to drink, set a limit and stick to it.
According to the American Psychological Association, there is a difference between being sad during the holidays because of personal issues and a serious emotional or mental condition. If you believe your holiday blues are lasting longer than the holiday season, immediately contact a healthcare professional.
Contact a Chicago Divorce Lawyer Today
Having a good divorce lawyer can help put your mind at ease during the holidays. Our Joliet, Illinois, divorce attorneys at The Foray Firm have years of experience that can help you through your divorce. Schedule a consultation by calling 312-702-1293. We represent those living in the greater Chicago area such as but not limited to Plainfield, Crest Hill, Lockport, Mokena, Markham, New Lenox, Chicago Heights, Flossmoor, and Hazel Crest.
Sources:
https://www.apa.org/index