What Are My Options if My Ex Does Not Pay Child Support?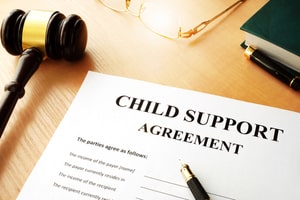 Child support is relevant in any case involving a child whose parents are not married or in a relationship. Many times, the parent who takes care of the child a majority of the time will receive child support and use it to help cover some of the costs associated with raising a child, like clothes, food, healthcare, and schooling or extracurricular expenses. Both the courts and the Illinois Department of Children and Family Services (DCFS) can issue orders requiring a parent to make support payments, but that does not always mean that the parent will obey. Unpaid child support can be frustrating for the parent who relies on it and can spell out serious trouble for the parent who will not pay. Fortunately, there are things you can do if your ex is not paying the child support that he or she is required to pay.
What is Failure of Support?
If a child support order is entered into by either DCFS or a judge, it has been determined that the parent has the financial resources available to pay the child support. If that parent refuses to make the support payments or does not make the payments, he or she can be considered to have failed to pay a support order. The Illinois Non-Support Punishment Act states that a person can be held in contempt of a support order if they:
Refuse to pay spousal maintenance

Refuse to pay child support and have the ability to pay such support

Have not paid their support obligation for longer than six months or have accrued more than $5,000 in unpaid support

Have fled the state to avoid paying support or owe more than $10,000


Have not paid the support obligation for longer than one year or owe more than $20,000
Steps You Can Take
Child support orders are court orders, meaning your ex has a legal obligation to pay the order or they could face consequences. This also means that you have the right to pursue legal action against your spouse for not paying the support. While you can work directly with the Division of Child Support Services (DCSS) to take legal action against your ex, working with an attorney is faster and can produce better results.
A child support enforcement attorney can do the legwork of collaborating with DCSS on your behalf to prosecute your ex. Depending on the route you want to take, your attorney can request a variety of remedies from the judge, such as:
Entering a repayment schedule to catch up on the money owed

Sentencing your ex to a period of imprisonment


Enter an order to pay all future child support payments
Talk With a Will County Child Support Enforcement Attorney Today
Child support exists because the state of Illinois believes that both parents have the inherent responsibility to financially provide for their child. If your spouse is refusing to pay or has failed to pay support payments, you should get in touch with a Joliet, IL, child support enforcement lawyer as soon as possible. At The Foray Firm, we can help you get the money that you and your child have a legal right to. Call our office today at 312-702-1293 to schedule a consultation.
Sources:
http://www.ilga.gov/legislation/ilcs/ilcs3.asp?ActID=2089&ChapterID=59