5 Tips for Surviving Your First Holiday Season Post-Divorce
Posted on December 17, 2020 in
Divorce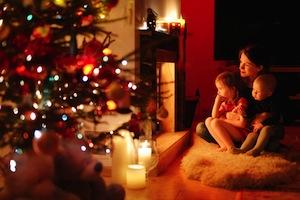 The holiday season will look a bit different for everyone this year. With COVID-19 impacting Americans' ability to host typical holiday gatherings and businesses being limited to help reduce the spread of the virus, the upcoming winter holidays will be different from previous years. For those recently divorced, the pandemic as well as recent life changes can make the holiday season feel especially heavy.
If you are about to enter your first holiday season single, keep the following tips in mind:
Accept that things are difficult: It is not uncommon for recently divorced individuals to try and ignore their feelings and treat the holiday festivities as they normally would. Going into the holidays with these expectations can leave you feeling disappointed when you do not find yourself in the same spirits that you are typically in during the holidays. As the season begins, recognize that this year is unprecedented in a number of ways and that you may not be in the same cheerful mindset as you have been in the past.
Create boundaries: The winter holidays often include family parties and the annual life update that you provide to your extended family members. Some may still have small gatherings with family this year, and if you have not seen them in a while, you could be asked a number of uncomfortable questions about your divorce. Setting your boundaries and preparing your responses before you step into these situations are good ways to avoid any unexpected confrontation or inquiries.
Avoid intoxication: It is no secret that holiday parties are often filled with seasonal alcoholic beverages to set the mood. While a drink or two may help to calm your nerves, indulging too much can bring up unwanted sentiments, such as sadness or anger towards your recent divorce. It may be a good idea to keep the alcoholic drinks to a minimum to avoid any uncomfortable outbursts, conversations, or even a driving under the influence (DUI) charge on the way home.
Remember your kids: Depending on the impact of your divorce, you may wish to cancel your holiday gatherings and traditions altogether. For divorced parents, this is not necessarily an option. It is important to remind your children that life goes on after your divorce, including the holidays. By focusing on making the holidays cheerful and fun for your children, you can help get yourself in the holiday spirit. You may need to update your holiday traditions, depending on the details of your parenting plan and schedule.
Steer clear of complete isolation: The COVID-19 pandemic has required Americans to limit social interactions for their health and safety. Depending on your own health and quarantine social bubble, it is a good idea to remain connected to close family members and friends. Whether your gatherings occur virtually or in-person, these interactions can help you remember the good things in your life and avoid getting lost in your old wedding video, romantic movies, or memories of your previous marriage.
Contact a Homewood, IL Family Lawyer
A common issue that recently divorced couples face during the holiday season is how to share their parenting obligations. If you forgot to include these details in your parenting plan or would like to modify your previously outlined parenting schedule, the legal team at The Foray Firm can help. Our Joliet family law attorneys assist families going through transition, no matter the time of year. If you are considering divorce or would like to modify your parenting plan, contact our family law firm at 312-702-1293 for help.
Source:
https://www.meetmindful.com/10-tips-for-surviving-the-holidays-after-a-divorce/