Prenup vs. Postnup: Should I Consider Signing One?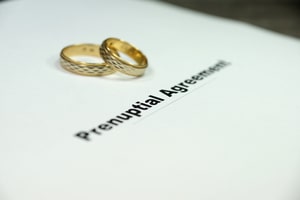 Many have heard the word "prenup," but "postnup" has not received nearly as much coverage. Prenuptial agreements are typically discussed in the news as wealthy celebrities tie the knot, yet many have never heard the term postnuptial agreement. In the past, prenups have been "reserved" for the rich and disregarded by the average American. The tides have turned as millennials have changed the average age for marriage. Now that newlyweds have been getting married at a later age, they often have larger savings accounts and more to lose in the instance of divorce. Prenups are a good safety net for any married couple, and postnups have begun to rise in popularity as well. Understanding the difference between the two and knowing their benefits is information that every couple should take the time to learn about before signing on the dotted line.
Is One Better Than the Other?
As is evident in the name, prenuptial agreements are completed before the marriage, while postnuptial agreements are formulated after the couple has already said, "I do." Prenups allow marrying couples to outline their assets and properties, explaining how they would be divided in the instance of divorce. This is important for couples who have large assets as well as those who have small savings accounts. Every asset and property will be divided during a divorce, so even small savings accounts could help you get back on your feet.
Postnups allow married couples to do the same thing as prenups; however, they can sometimes be more helpful. Because prenups are signed before the marriage is official, some of the terms being outlined on the agreement can seem abstract. Because things change after you get married, postnuptial agreements can feel more realistic and concrete. Postnups allow you to divide your current assets in the case of divorce. After getting married, the life you built together will include significantly more finances and properties than you had beforehand. A postnup allows you and your spouse to divide these between the two of you however you see fit. While it may seem odd to plan your potential divorce after years of marriage, it can often soothe the mind of each spouse, knowing that the division of the life they built together could be under their control if necessary.
Call a Joliet, IL, Family Law Attorney for Help
Deciding to sign a prenup or a postnup can bring up a mixture of feelings. While it may feel like the right thing to do, these agreements can make you imagine a life you wish to avoid. Having an objective third-party present is the best way to keep your emotions in check and the legal process on track. At The Foray Firm, we prioritize your family as much as we prioritize the law. Our lawyers are well-versed in all areas of family law and understand the importance of signing a prenuptial agreement as well as how difficult this can be for some. If you are considering signing a prenup or postnup, contact our Will County family law attorneys at 312-702-1293 for help.
Sources:
https://www.investopedia.com/articles/personal-finance/070815/postnup-vs-prenup-how-they-differ.asp
https://www.forbes.com/sites/heatherlocus/2018/09/23/why-prenuptial-and-postnuptial-agreements-lead-to-stronger-marriages-and-prevent-disastrous-divorces/#2930dc416488